Satchel One
What is Satchel One? Login below: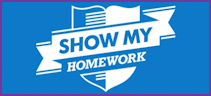 SATCHEL ONE
Satchel One (previously Show My Homework) is an online tool to help parents and learners keep track of homework set by their teachers. You will be able to see details of the tasks your child has been set and when the homework is due.
There is also a free-to-download app for iPhone/iPod Touch, iPad and Android devices which can provide automated notifications to learners and parents when homework is due.
Need help
For articles, help, and advice for getting the most out of 'Satchel One' please visit their Help Centre.
Download the app
Please click one of the links below, depending on what type of phone you have, to download the app.